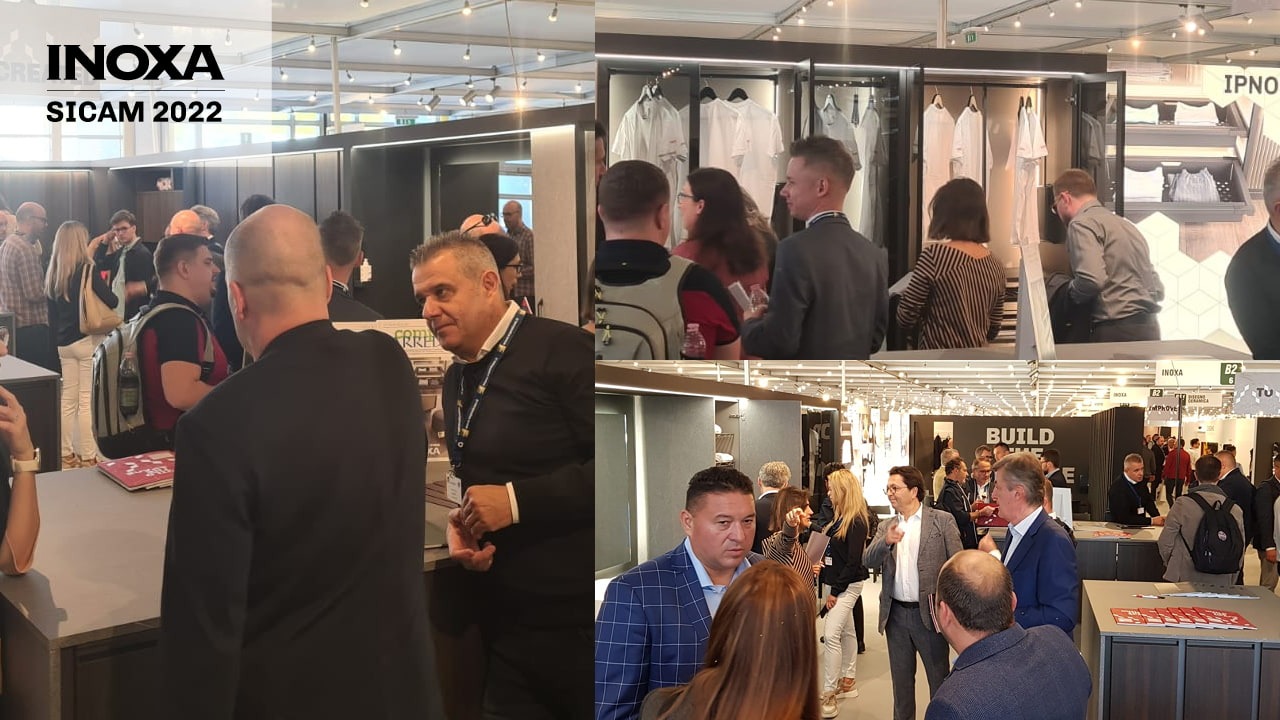 27 October 2022
4 questions to Alberto (Sales office) e Angela (QA department) about their presence at Sicam Fair 22
• Inoxa participated as an exhibitor at the 2022 edition of the International Exhibition of Components, Accessories and Semi-finished Products for the Furniture Industry (SICAM). It has been a fundamental moment of exchange with its customers, presentation of new products and observation of the scenario.
What impressions did you have?

Participating at Sicam Fair was, as usual, an opportunity for us to evaluate in which direction the market is going and how Inoxa fits into it. It is always an important moment to discuss with our customers, who always give us the inspiration to improve and to look to the future.

• What are the new products that Inoxa presented at SICAM?

For the kitchen environment, we have introduced a new product range with articles for H80 height bases and we have improved our round wire articles with a new, unique and versatile collection.
In addition to the kitchen space, we have also extended our offer to the bathroom and the sleeping area of the house. Inoxa aim is to conceive modern living spaces by recognizing new habits and new needs, and by finding solutions that satisfy those needs in an elegant and functional way. From those principles the new Ipnos and Zenith collections are born.
• SICAM is an opportunity to concretely measure how technology and design combine more closely, highlighting the desire to put functional and aesthetically fine products on the market. How Inoxa is developing its production line?

Inoxa has always been focused on improvement. Our technical department is constantly doing research to develop the combination of aesthetics and functionality, which are aspects of the same view.

• What information did you take back home from participating to this edition of the SICAM fair?

This edition enriches us with many improving ideas and gives us a greater awareness of our strengths, underlining the level of satisfaction of our customers.
Inoxa therefore starts from this step to define new targets for future improvement.